Concealed Carry Firearms Safety Class
As a WI Department of Justice (DOJ) certified firearms instructor, I have been teaching my police officers how to shoot safely, accurately, and tactically since 1996. My certification qualifies me to teach the DOJ Concealed Carry curriculum and issue the DOJ training certificate to private citizens.
This class satisfies the training requirements necessary to obtain a concealed carry permit in the State of Wisconsin. This is a curriculum that you need to understand if you wish to undertake the responsibility of carrying a concealed weapon, or keeping one in the home or business for the purpose of self-defense. This is a foundation course so no previous experience is necessary and you will not need a personally owned handgun.

Topics include: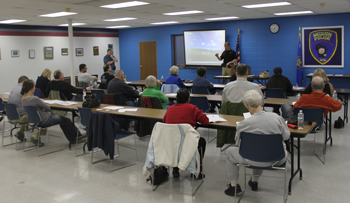 Firearm Safety
Safe Handling Rules
Unloading A Handgun
Family Awareness Of Firearm Safety In The Home
Safe Storage Of Firearms In The Home
Children & Firearm Safety
Considerations For Concealed Carry
Carry Methods
Maintaining Control Of Your Firearm
Avoiding The Need To Use Your Firearm
Encounters With Police Officers
Moral, Ethical & Legal Implications Of Carrying A Concealed Firearm
 Elements Of The Law
Statutes On Self-Defense And Defense Of Property

Process For Obtaining Your Permit


Application
Renewal
Change Of Address Forms
Upon successful completion of this course, you will receive a DOJ training certificate. You will then need to download and print the concealed carry permit application from the DOJ website and complete it. Send the application, a copy of the training certificate which I provide, and $40 to the DOJ address on the application. It will take about two weeks for you to receive your permit. We will review this process in class.

It is important that if a handgun is kept in the home for self-defense, a spouse should also be educated about it, whether they intend to carry or not. Any student registering for this class may bring a spouse at a reduced price.

WISCONSIN CONCEALED CARRY COURSE $80 per person, couples are $140 (spouses).  
Please click on the link above this line or go to the "Contact Us" page to pre-pay and reserve your seat.  You may call MPD training at 262-227-1846, or e-mail steve@mpdconcealedcarry.com with any additional questions. 
Other Concealed Carry Website Resources